Exterior styling of the 2019 Kia Sedona
By Product Expert | Posted in Kia Sedona on Monday, August 6th, 2018 at 6:33 pm
Even if minivans aren't notorious for being the greatest looking vehicles around, you don't have to settle for a car that doesn't look it's best. That's why there is plenty of things that makes the exterior styling on the 2019 Kia Sedona something to be proud of. Let's take a look at what some aspects of the Sedona's exterior looks like.
Exterior design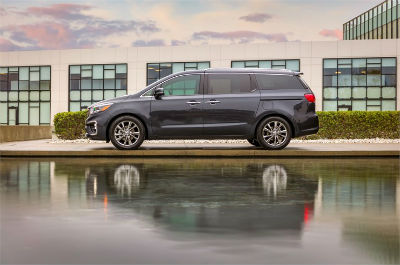 We've already mentioned the LED lights in a previous blog, but let's take a closer look at them. The front fascia of the 2019 Kia Sedona has been redesigned for a sleeker and sharper appearance. The LED headlamps that we've mentioned are for 2 trims; SX, and SXL. While the face of the Sedona has stayed true to the tiger-like appearance most are used to seeing on Kia vehicles, you will have a mesh grill to keep up with modern appearances.
Depending on what trim you eventually decide upon, you'll also have redesigned wheels that are either 17-, 18-, or 19-inches. Speaking of the redesign, there is also a power sliding door button, which now can be found on the side door handles on all trims above and including the EX, which can definitely help anyone who needs to load gear or children into the Sedona frequently.
Read More: What are the specs and features of the 2019 Kia Sedona?
Where can I find the 2019 Kia Sedona?
Get ready, because we'll have the 2019 Kia Sedona right here at Moritz Kia when it is released. Make sure to stop by to take this minivan for a test drive when it's released. In the meantime, you can contact us with any questions you have about this, or any other Kia vehicle.
Of course, we understand that sometimes, new vehicles just aren't the right choice for you. Thankfully, we have plenty of spacious and reliable used vehicles here at Mortiz Kia, so be sure to check some of those out, as well!