Kia Drive Mode Select: What It Does and How to Use It
By Product Expert | Posted in FAQ, Technology on Monday, April 6th, 2020 at 11:38 pm
What Is Kia Drive Mode Select and How Does it Work?
Modern vehicles are full of technology, but this includes far more than just the infotainment system. Nowadays cars come equipped with systems that not only deliver comfort to passengers but also ensure an enhanced driving experience. Many models in the Kia lineup come with Drive Mode Select, a feature that dynamically adjusts the vehicle's driving mode to suit your particular driving preferences. Each mode was specifically developed to maximize either performance or fuel efficiency. But how does Kia Drive Mode Select work? And what settings does it include? Read on to find out more about this technology.
---
Read more: What Technologies Come with Kia Drive Wise Safety Suite?
---
How Many Driving Modes Are Available?
Kia Drive Mode Select provides drivers with a total of six selectable modes, some of them only found on models like the Kia Stinger. Each mode customizes and optimizes performance by modifying transmission shift points, steering weight and throttle response. With the push of a single button near the gear shifter or on the steering wheel, you can turn your Kia into either a sports car, a luxury car or a fuel-efficient wonder. Let's take a closer look at each driving mode:
Normal Mode
This mode provides a good combination of power, fuel efficiency, steering and throttle response, and is ideal for your day-to-day commute. Whether you're driving to and from work or going on a weekend adventure, you can't go wrong with normal mode.
Eco Mode
This mode is designed to help you get the most use out of your gas and save money at the pump. It works by altering the transmission shift points, throttle response and electrical systems to provide the greatest fuel efficiency possible. The Eco mode is ideal when driving through the city.
Sport Mode
When performance is a priority, Sport mode is the way to go. This setting provides enhanced throttle response, sharper transmission shift points and more precise steering so you can get the most out of your vehicle's powertrain. Unlike the Eco mode, Sport is most used when driving on the highway and won't give you much fuel efficiency.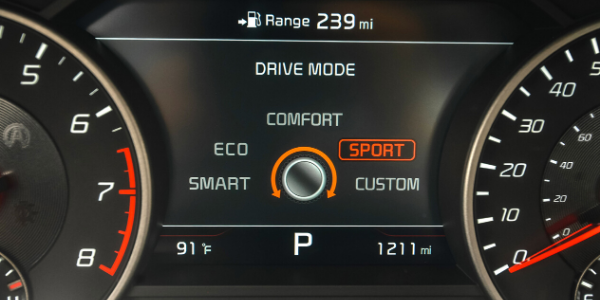 Comfort Mode
Also adequate for day-to-day city driving, the Comfort mode provides smoother handling and loosened suspension feel, translating into a more relaxed drive. This setting helps your Kia mitigate road imperfections and reduce engine noise.
Smart Mode
In compatible Kia vehicles, the Smart driving mode monitors your driving style throughout the day and switches vehicle operation based on your driving preferences on different conditions. You may love Comfort mode on your way to work, for instance, but want to enjoy the engagement of Sport mode on your way home.
Custom Mode
In compatible Kia vehicles, the Custom mode allows you to tailor the suspension, throttle and steering characteristics yourself to find the perfect balance of comfort, fuel efficiency and performance. Vehicles like the Kia Stinger allow you to save this custom setting.
---
Read more: Which Kia Model Gets the Best Gas Mileage?
---
Where Can I Find Kia Models with Drive Mode Select in Fort Worth, TX?
With Kia Drive Mode Select, you will be able to enjoy an outstanding driving experience under any road condition. At Friendly Kia, we have a wide variety of new Kia models that include this innovative system. If you have any more questions about each selectable mode, contact us at Mortiz Kia and we will be happy to answer all your questions. To check out this feature for yourself, book a test drive and take one of our available models for a spin.